Kenwood Excelon DNX893S 07 to 17 Tundra Package
This package includes:
1 Kenwood Excelon

DNX893s

1 Metra Dash Kit

1 Maestro ADS-MRR Control Module

1 Maestro HRN-RR-TO1 or TO2Wiring Harness
1 Metra antenna adaptor 14 to 17 only
if you need a sat radio module you can buy it at the bottom for 60 dollars
for 2014 to 2017 there is a sat02 option this will retain your factroy nav antenna and sat radio antenna so you do not have to run new ones . cost is 22 dollars
All that and more
Upgrading to a factory nav system for your vehicle might seem like a good idea when you're in the showroom, but you'll probably want something more versatile than what most car makers can deliver. Kenwood's multimedia DNX navigation receivers for 2015 boast more connectivity than ever before, plus great guidance, sound enhancements, and the trusted Kenwood name behind them. The Kenwood Excelon DNX893 adds a pair of USB inputs, two camera inputs, a 13-band EQ, and 5-volt preamp outputs to an already dazzling array of features to entertain and inform you.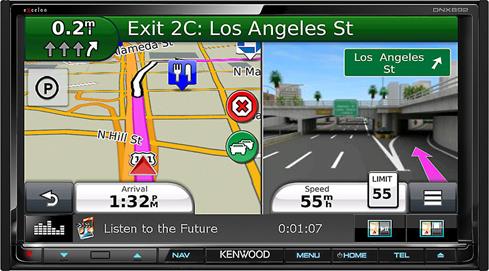 Garmin guidance on a large display
The navigation experts at Garmin built the GPS software for the DNX893 — you can view its maps of the U.S., Canada, and Puerto Rico easily on the 6.95" touch display. You'll also get reliable routing with text-to-speech voice prompts that announce actual street names at turns, lane assistance, and realistic views of complicated intersections.
Use your smartphone intelligently
Kenwood lets you incorporate your favorite smartphone music apps into your drive. Here are some highlights for the DNX893:
iPhone®: With a separate cable, you'll get control of your Pandora® Internet radio and iHeartRadio apps through the receiver's touchscreen when connected. Limited control over your music apps is also available via wireless Bluetooth connection. The DNX893 also offers compatibility with your iPhone's Siri® feature for select email, Bluetooth® calling, and iPod® commands. The receiver's iPhone App Mode offers some basic interaction with select apps through its touchscreen using a wired connection; some apps such as streaming video may require the parking brake to be engaged.

Android™: You'll get control of your smartphone's Pandora and iHeartRadio apps through Bluetooth, so no cable needed. The Kenwood Music Control app also gives you easy search and playback functions of your Android phone's music through the receiver.
The DNX893 also features an HDMI input, allowing you to connect most compatible Android smartphones and devices. WIth the correct HDMI or MHL cable connected, you'll be able to view video content from your phone on the Kenwood's screen while parked. The same goes for your iPhone 5 or newer, but you'll need to make sure you have the right combination of cables and adapters from Apple to view videos on the receiver's display.
Bluetooth with aptX®
If your phone supports Bluetooth with aptX, you'll be able to take advantage of the increased sonic fidelity by streaming your music files to the DNX893. aptX even makes your iPhone's AAC files purchased through iTunes sound more like CDs. You'll also get voice dialing support through most phones, and safe Siri Eyes Free dialing with compatible iPhones. A wired connection will also get you automatic pairing with any iPhone.
Miracast™ compatibility
Miracast technology allows the DNX893 to "mirror" the screen of select Android and Windows® phones and tablets right on the receiver's display. You can stream videos and other content from your phone to the receiver when parked for pit-stop entertainment. Miracast works via Wi-Fi® wireless communication, so you'll need to add an optional Wi-Fi dongle to the receiver to take advantage of this cool feature.
Traffic reports from INRIX
With your DNX893 purchase, you'll get a free 2-year subscription to INRIX traffic service, which provides quick updates on congestion along your route. INRIX is only available through a free app, so you'll need to have your smartphone with the app on it connected to the receiver to take advantage of these traffic updates. INRIX updates require an in-app purchase after the 2-year subscription ends.
Built-in HD Radio™ tuner
The DNX893 also features an HD Radio tuner. You'll enjoy much-improved AM/FM sound quality when you're tuned into a local participating station, and there's no subscription required — just tune it in like a regular radio station.
Your media, your way
This receiver will play all your CDs and DVDs, including discs loaded with music files — including lossless FLAC files — while two A/V inputs offer connections for more audio/video sources. Dual rear USB ports let you source tunes from both your iPod and thumb drive without the hassle of switching them out. You also get an SD card slot for playing digital music files.
When you're parked, you can enjoy movies from DVDs or other video sources on the receiver's display. If you've got rear-seat or overhead monitors, your passengers can check out video content on them, and dual-zone output lets you listen to the radio or another non-disc audio source up front at the same time.
Sounds like a winner
Kenwood's Drive EQ+ technology boosts certain frequencies that are easily masked by wind and tires rolling on asphalt. It also enhances your music's bottom end as your speed increases, so you can really feel those tunes as you drive. You can also tweak the sound to your ears' content with a 13-band graphic equalizer and other soundshaping tools at your disposal.
Ready for satellite radio
Why struggle with stations fading away as you travel? You can hook up a SiriusXM satellite radio tuner (not included) to this receiver and access the wide variety of entertainment, sports, news, and commercial-free music satellite radio provides — and your favorite stations are always there. The DNX893 is compatible with newer SiriusXM features like TuneMix and SportsFlash, which give you even more customizable options for listening the way you want.
Expansion options
You can also connect up two cameras, so you can see more of what's around your vehicle when getting in and out of tight spots. The DNX893 adds adjustable parking lines for the rear-camera feed, to help guide you. If you're looking to add subs and amps, you can take advantage of three sets of high-voltage preamp outputs.
Want to keep your car's steering wheel audio controls?
In most cars, you'll need an adapter to retain those controls with this car stereo. Connect a few wires, then program the adapter for your particular car and radio, and you'll retain the convenience of your steering wheel controls. You'll see the adapters that work with your vehicle when you add this receiver to your cart.
iDatalink Maestro lets you keep your car's factory extras
If your vehicle comes with factory add-ons like Ford SYNC®, GM OnStar®, Chrysler Uconnect™, or Volkswagen Bluetooth, you don't have to worry about losing your favorite conveniences to get navigation and better sound — the DNX892 offers compatibility you won't find in many other aftermarket radios, thanks to the iDatalink Maestro module(not included).
For Ford SYNC systems, you'll be able to retain voice-controlled features, steering wheel audio controls, and factory audio functions;

For GM vehicles, you'll keep your steering wheel audio controls, your factory amp, safety warning chimes, and OnStar, if present;

Chrysler owners, you'll get to keep all your Uconnect functionality;

VW owners: you'll keep your factory Bluetooth amplifier and fader, plus the use of the factory media device interface.
The iDatalink adapter also lets you tap into your vehicle's diagnostic port, so you can check out expanded functionality including gauges, climate controls, a distance sensor, and tire pressure monitor on the Kenwood's screen.
Bluetooth note: Use of this receiver's Bluetooth features will depend upon your phone's Bluetooth capabilities. Learn more in our articles about Bluetooth profiles and streaming music using Bluetooth with aptX.
iPod/smartphone note: If you're going to use your iPod or smartphone with this receiver, be sure to check "Details" for compatibility information.
Product Highlights:
General Features:
DVD/CD player with 6.95" touchscreen and AM/FM tuner

fits double-DIN (4" tall) dash openings

built-in amplifier (22 watts RMS/50 peak x 4 channels)

built-in Bluetooth with aptX for hands-free calling and audio streaming

built-in HD Radio tuner

plays lossless FLAC audio files (up to 48kHz/16-bit) from your flash drive or SD card

variable illumination color for keys
Smartphone Features:
built-in iPod,iPhone, and iPad control (see Details for model compatibility)

Pandora and iHeartRadio app control via Kenwood KCPA-IP102 cable, Apple dock connector cable, or KCA-IP103 cable (limited control available via Bluetooth connection)

Kenwood KCA-IP202 cable required for full access to audio/video content from older Apple devices

Kenwood KCA-HD100 cable and Apple Lightning Digital AV Adapter required for viewing video content from Lightning devices

Siri Eyes Free control with iPhone 4s and newer

built-in Android control

Pandora and iHeartRadio app control via Bluetooth connection

Kenwood Music Control app control via USB connection

Kenwood KCA-MH100 cable or KCA-HD100 cable required for viewing video content from compatible Android devices

compatible with Miracast wireless mirroring technology for select Android and Windows devices (optional Wi-Fi dongle required)
Navigation Features:
built-in Garmin navigation system

maps of the United States, Canada, and Puerto Rico, plus 6 million points of interest

optional traffic reports available through INRIX smartphone app — 2-year subscription included with purchase (smartphone required)

text-to-speech voice prompts announce actual road names at turns

lane assistance and junction view
Audio/video Features:
plays CDs, DVDs, USB memory devices, and SD cards (see Details for full capabilities)

Drive EQ+ boosts low end and other frequencies to overcome road noise

13-band graphic EQ

high- and low-pass filters

digital time alignment, space enhancer, sound realizer, sound elevation, bass boost, and loudness

dual-zone A/V output

supports rear-view camera adjustable parking lines (optional camera required)
Expandability:
works with SiriusXM SXV300 tuner—supports new Tune Mix, Traffic & Weather Now, and Sports Flash features

inputs: HDMI input, two rear USB inputs, SD card slot, two rear A/V inputs, two camera inputs (front, rear

outputs: rear A/V output; 6-channel preamp outputs (5-volt front, rear, subwoofer)
Other Information:
microSD card input for map updates

compatible with most factory steering wheel audio controls (adapter required)

compatible with iDatalink Maestro to retain factory settings for Ford, GM, Chrysler, and VW

warranty: 2 years

This package includes:

1 Kenwood Excelon

DNX893s

1 Metra Dash Kit

1 Maestro ADS-MRR Control Module

1 Maestro HRN-RR-TO1 or TO2Wiring Harness

1 Maestro sat02 14 to 17 only

1 Metra antenna adaptor 14 to 17 only

iDatalink's Maestro ADS-MRR module, along with the correct interface harness for your vehicle, allows you to install a new car stereo in your Tundra, while retaining your factory steering wheel audio controls and the use of your factory amplifier, if present.

Here's how it works

First, you connect the Maestro to your Windows-based computer (not compatible with Mac) using the included USB cable, visit www.idatalink.com/maestro, and follow the instructions. Once the unit has been "flashed," it's ready to go. Next, you'll either solder or crimp the vehicle-specific Maestro harness to your new receiver's wiring, just like you would with any wiring harness or wiring adapter.

Retain steering wheel audio controls, too

The ADS-MRR module will allow you to use your factory steering wheel audio controls with your new receiver. Using the intuitive web programming interface, each factory button can be assigned a specific radio function. Better yet, you can also assign a secondary "press and hold" radio function to each factory button, effectively doubling what can be controlled.

Keeping your factory features with an iDatalink-ready car stereo

With a compatible Kenwood receiver, you'll enjoy the outstanding performance of your receiver, plus seamless touchscreen control over most of the factory features in your Tundra. (See details for specific functions and installation notes).

Product Highlights:

allows installation of a new car stereo in Toyota Tundra

works with required vehicle-specific harness (included in package) to retain factory steering wheel audio controls, retain the factory amp if present, and integrate all car stereo connections

retains factory convenience features (OnStar, SYNC, Uconnect, and more) with any of the Kenwood touchscreen receivers listed below

displays engine performance data on touchscreen with the listed Kenwood navigation receivers

dimensions: 4-1/8"W x 3/4"H x 2-7/8"D

warranty: 1 year